43 – « Devdas » of Sanjay Leela Bhansali (12/07/2002)
This chronicle could be called :
« Devdas, or why I fear to watch my favourite movie… »
3 years ago, I decided to discover a movie, knowing nothing about it, just because « it's fabulously aesthetic and I want to understand why I'm so captivated ». This movie was « Devdas ».
(Sorry, let's be honest from the start : after an hour, we have to admit that I tried to watch « Devdas », through my tears).
I had heard about it thanks to Aishwarya Rai, former Miss World and renowned Bollywood actress.
A simple pic of Paro found on a blog made me wonder, more than 15 years later, about the whole movie.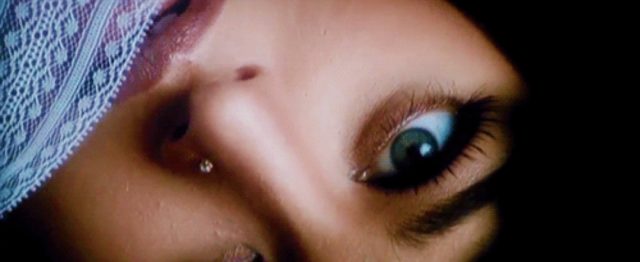 After 1 hour of effervescent romanticism followed by almost 2 hours of intense suffering, I decide, without further trial, Never to watch an Indian movie again in my life.
« Why ? », you may ask ?
Because my universe seemed to have collapsed ! I was broken by finishing the film, bruised, devastated.
Let's go back to the beginning :
What brought me here was, as I said earlier, the insanely aesthetic aspect. Every single frame is utterly breathtaking and I was hypnotized.
But without a great story and a solid acting, my sudden crush could have simply crumbled or vanished.
What really drowned me in the movie were the first note of music.
I come from a music lovers' family, have always been highly sensitive to it, and the melodies composed by Ismail Darbar and Birju Maharaj sounded like a magical lullaby to my ears.
Never before had I heard such rhythms, chords, and instruments, but my heart and brain were instantly under the spell of these new sounds.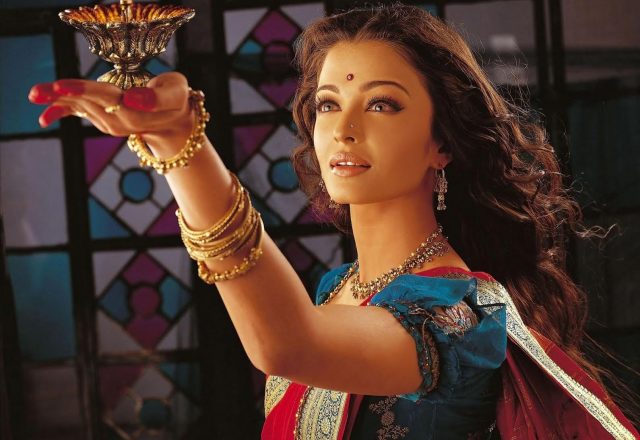 My heart skipped a beat when Aishwarya Rai entered the screen, under the moonlight, in the storm.
I read way later that her « beautifying process » used to take hours for this movie but let's assert right away that she's, by essence, absolutely stunning. I was first captivated by her charm but, it's the mix of shyness and arrogance she insufflated to Paro that really moved me.
Yet, it's when Shah Rukh Khan appeared that I felt my breath coming back to me… after what seemed years !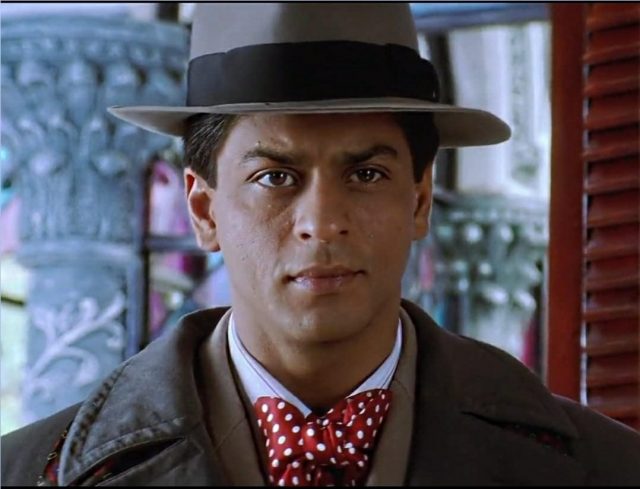 Devdas is a precious, intense, and iconic character. Shah Rukh Khan's interpretation felt even more intimidating, « sexy », moving (and sometimes infuriating… Sorry !).
The way he loves, despairs, hides his pain behind a drink and a cynical smile… Every shade of the character is clearly expressed in the eyes of the actor, who grabbed me like I've never been before and « forced » me to drink with him every sip of Devdas pain.
Finally, Madhuri Dixit as Chandramukhi really bewitched me and I was definitely won over to her the second I heard her ghunghroo clinking to my ears.
The dance is, moreover, a major element of the movie and each choreography immersed me deeper into this whole new world.
I want to thank at this point every actor involved in the movie. From the three main actors to Kirron Kher, passing by Shmita Jaykar, Jackie Shroff…
I felt sorry, angry, desperate, with them all, because of them all.
And Shah Rukh Khan, who I totally discovered here, was by far my most impressive encounter.
I can't explain how deeply I felt every emotion he conveyed to me through his eyes, but I felt a connection with his character without even wanting it or being able to relate initially with « a heartbroken drunkard living in a brothel » (sorry for this terrible shortcut, but I'm sure you get my point).
Having seen his work by now, Devdas is for me his best acting performance ever with Darr !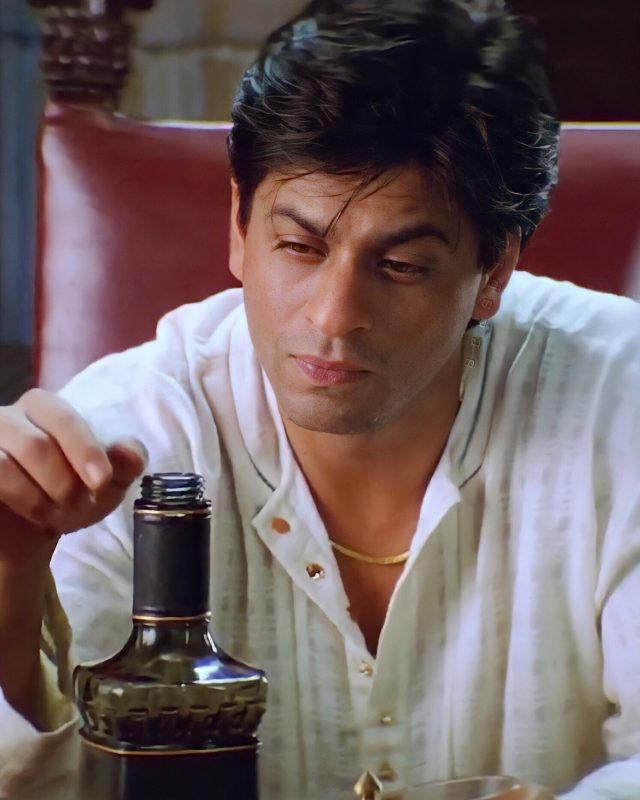 Although everything seemed perfect at first, the story was far too heartwrecking for me…
As a European woman, fed since birth with Disneys and then sweet Hollywoodian romcoms with a classical « happy ending », I couldn't imagine for a second that the characters would never be reunited in the movie.
And my brain, trained with 30 years of this cultural denial of « reality of life », « some love stories remain incomplete » etc., pushed me to believe, until the very end, that Paro would surely at least hold Devdas' hand before his death…
My culture didn't prepare me to this disaster and after 2 hours of tears, I was deeply devastated by this last scene.
At that point, my only question was : « How could Indians live and love in this already terrible world if, even in their filmic experience, they decided to keep the lovebirds away without allowing them to live their beautiful story ? »
My universe was upside down.
Even after a second and third viewing last year, I couldn't believe that such an amazing team, from director, to actors, composers… had created this dazzling and gigantic gem, to end on a lethal note, for the character… and my heart !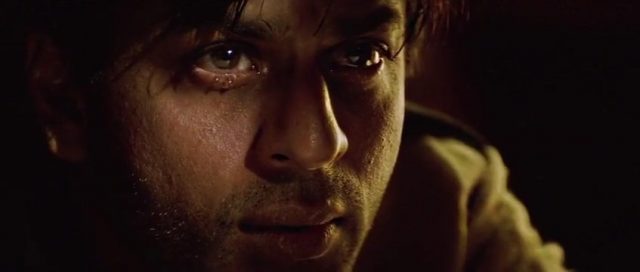 I'm infinitely empathetic, towards real people as well as so-called fictional characters. Indeed, they reflect, in my opinion, the reality of at least one human being on this planet.
Seeing Shah Rukh Khan play this broken man who self-destructs… that was too much for my heart.
There's a sincerity in Devdas, something in his gaze, which leaves me to think, perhaps wrongly, that the actor himself once knew agony, or agreed to live it for him.
Either way, it resonated with my own wounds, my pain, and my heart seemed to implode.
I drowned in an ocean of tears.
After this, it took me weeks to digest, regain my composure and wits, and finally forget…
Yet I clung to the story, acting, decor, music, colors, looks, the overall aesthetic… which had pierced and transported me.
For me, all this made « Devdas » a masterpiece in every way, a true work of (he)art !
For those who would have felt concerned by my resolution, let's state that it fortunately didn't resist the pandemic and my immense curiosity.
Devdas was my first ever Indian movie and, somewhere, I felt rivers moving in me. It will always have a very special place in my heart.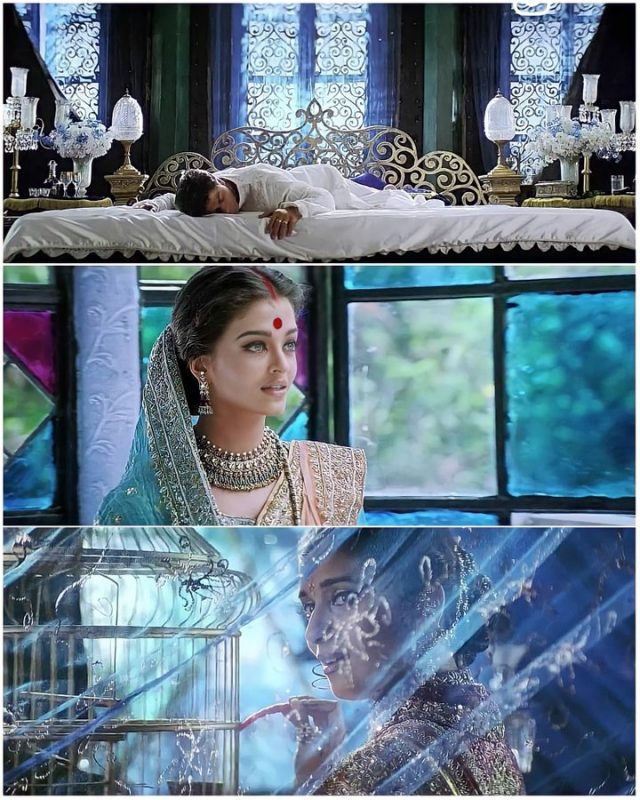 By now, I absorb Bollywood movies as if they are my air and water. Indeed, in April 2020, during our first lockdown here in France, I gave a new chance to Indian cinema and made an attempt to weave a link with it. Eventually, Hindi became my home's first language in a few days. With every new step into this world, India seems to call me and I melt to adapt to new visual, emotional and cultural codes. I've become moving and colorful…
Indian movies (and especially those of Shah Rukh Khan), respond to a part of me, echo my values ​​and my needs, and I connect with them with my heart.
This passion keeps growing in my Life everyday Thanks to one movie. A movie that will remain in my life as my most painful and impressive cinematic experience.
Devdas mere dil mein hai, hamesha hamesha ke liye !